The Top 10 SEO Tips for eCommerce Websites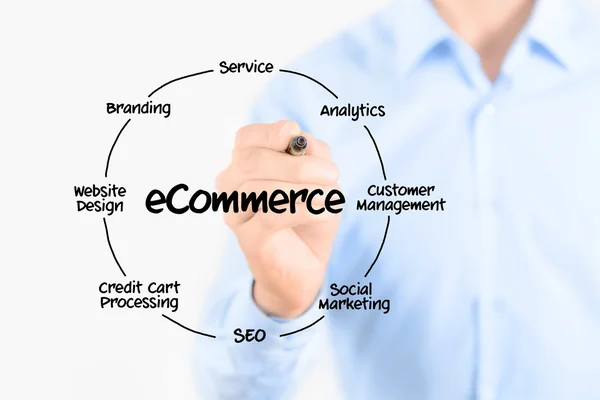 Suppose you run or manage an online store. In that case, you're aware that SEO or search engine optimization (SEO) is essential to the success of your business. This article will provide the top 10 SEO tips for eCommerce websites. Suppose you implement these suggestions and follow these tips. In that case, you'll be well on getting higher rankings on search engines and boosting the number of visitors to your site.
1. Know What Your Customers Are Looking For
If you'd like your e-commerce business to grow, you must be ranked at the top of Google's result pages. How do you achieve this?
It all starts by understanding what your customers are looking for. What are the most popular keywords and phrases they are using to locate the products you offer? Once you've identified that, you can begin designing your website and its content around these terms.
You can utilize tools such as Google AdWords Keyword Planner to assist you in coming up with keyword ideas. Don't forget to include these keywords throughout your site, including in your meta descriptions, title tags and header tags.
2. Utilize Keywords throughout Your Site
To rank your site on search engines, you have to incorporate keywords into your website.
This includes incorporating keywords into your website's title, metadata, header images, and body content. It's not enough to have them in the first place; you must use keywords naturally and strategically.
The positive side is that there's a wealth of tools and resources to help you identify the most appropriate keywords for your website. Once you've discovered the keywords, ensure you include them in the content you write in a manner suitable for your readers.
3. Optimize Your Pages for Product Sales
When trying to optimize your pages for sale, it is essential to ensure that you have all the required information. It includes a title, meta description, keywords, and images.
Including relevant keywords will improve your site's rank on search engines. It is also possible to use Google AdWords to find out what keywords are most commonly used.
Images on your website are equally important as they can help customers understand the product. Be sure to utilize high-quality images that are appropriately identified and labelled.
4. Optimize Your Pages for Category Pages
Category pages are an excellent method to boost your site's organic traffic since they're one of the pages that are most frequently visited on every e-commerce site.
When optimizing your pages for the category, be sure that you have accurate and relevant titles and descriptions that are instructive and convincing. Also, you should employ high-quality images to make your pages visually appealing to users.
5. Publish Unique Content
It's no secret that creating exclusive, high-quality content is among the essential elements of SEO. This is something that eCommerce companies should be focusing on if they wish to see the results they desire.
Given that you already have plenty of data and products to use, the challenge is to turn that information into captivating content that can draw the viewers' interest. It could be anything from articles and blog posts to infographics, videos and infographics.
When you are creating material, you need to think out of the box and be creative! Focus on subjects relevant to your target audience that they'll find useful and fascinating. If you are able to accomplish it, you'll be on the way to increasing your SEO ranking.
6. Make sure your title tags are optimized and include meta descriptions.
Your meta tags and title descriptions can be a fantastic way to improve your website's performance for SEO. They appear on the search engine result pages (SERPs), and it's essential to ensure they're informative and rich in keywords.
Incorporating your primary keywords into your meta descriptions is an excellent method to improve the SEO of your site. Also, ensure they're attractive and catchy to make people want to click on them.
Here are some tips to optimize your meta tags and title descriptions:
Make sure to include your primary keywords in the meta description
Keep them to under 150 characters
Make them appealing and intriguing so that people are enticed to click on them.
7. Create a Sitemap
The creation of the sitemap is an essential element in every SEO tips for eCommerce site. It's a diagram of your site that outlines the hierarchy of your web pages and the way they're linked. This aids search engines in understanding your website more effectively and ranking your web pages more precisely.
There are several methods to create the sitemap. It is possible to use a plugin that works with WordPress or a program like XML Sitemaps or Screaming Frog. Whatever you decide to do make sure you submit the sitemap you created for submission to Google Search Console and Bing Webmaster Tools.
8. Implement Schema Markup
Schema markup can be described as a code you can include in your website's code to assist search engines in understanding the content more clearly and this is one of the SEO tips for eCommerce sites. This is crucial for e-commerce websites because it can boost your site's rankings and search engine visibility.
There are several kinds of Schema markup you can utilize, but we recommend using Product markup. This can help Google show rich snippets of your product pages, and this could encourage visitors to visit your site.
To include Schema markup on your site it is necessary to use the Schema Markup Generator. We recommend using the Schema Creator tool, which is available for free.
9. Make use of image alt tags.
Another SEO tips for eCommerce site is by using alt tags for your images. Alt tags are text-based alternatives to images which are utilized by browsers that aren't able to display images.
Adding alt tags to your photos will help increase your website's rank in search engines. In addition, alt tags can enhance users' experience on your site by providing additional information on the images on your website.
Use keywords pertinent to your service or product when adding alt tags to your website. This will improve the rank of your website and will make it easier for customers to locate what they're looking for.
When a search engine crawls your site, it will read the alt tags and use them to index your site and determine what keywords to associate with your content. Adding alt tags is a simple process, but it can have a big impact on your SEO efforts.
The following are the procedures to adding alt tags to your images:
1. Find the images you want to add alt tags to and this can be done by searching for the image file name in your content management system or by using an HTML editor to view the source code of your page.
2. Add a short, descriptive alt tag for each image. Be sure to include relevant keywords for each image.
3. Save your changes and republish your page.
By following these steps, you can help improve your site's SEO and make it more visible to potential customers.
10. Monitor Your Progress
The most crucial action to take in SEO is to be aware of the progress you are making continuously. This includes keeping track of your keyword ranking, website traffic and conversions.
Tools such as Google Analytics can help you keep track of all this data and provide you with a clear insight into the things that are working and what are not. Suppose you notice that your site's visitors are declining by a certain amount. In that case, it's likely that you need to work on improving the SEO strategies you employ.
If you monitor your progress, it is possible to make adjustments as necessary and ensure these SEO tips for eCommerce sites are aiding in the growth of your business.
Get in touch with D'Marketing Agency to boost your E-commerce website.
You should look at a D'Marketing Agency if you're seeking expert assistance to improve your search engine optimization. We have years of knowledge in this area and know precisely how to help your online store be more prominent in search results.
We offer a variety of solutions that will help increase your SEO. These include:
Please do not hesitate to contact us if you have any questions about our services or would like to organize a FREE site audit. We'd love to hear from you!
Conclusion:
If you've learned the top 10 SEO tips for eCommerce websites, it's time to put them into practice! Be aware that SEO is a process that takes time and patience, so don't expect to see the results in a matter of hours. However, with a bit of time and effort, you'll notice an improvement in the ranking of your site and traffic.