Easy And Effective Content Strategy For SEO Setup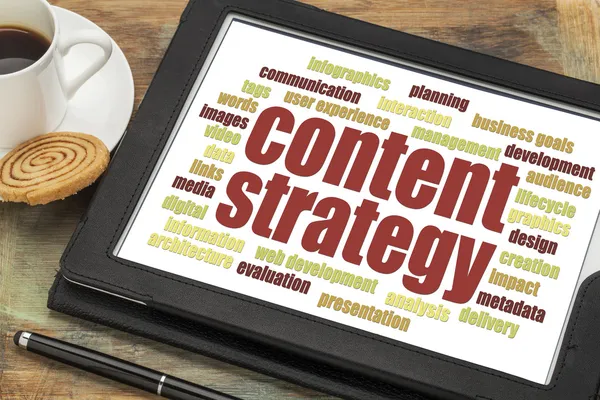 Create engaging, relevant content that attracts quality visitors to your site. Learn how to create an effective content strategy for SEO.
I don't think an army general wins an engagement by "winging the battle." Military leaders look over their adversaries to analyze their behavior, and plot their path.
They seek out weak points and opportunities and then utilize that knowledge to create an effective strategy to improve the odds of winning.
Creating search-optimized content isn't much different.
You shouldn't write about any subject, add some keywords, publish it on your website, and expect it to produce results.
Achieving profitable traffic to your website and creating high-quality leads from inbound traffic requires extensive study, meticulous planning, and the development of thorough SEO strategies for content. Before focusing on the correct keywords, the future of content marketing is all about writing to address the issues of your target audience.
To give valuable and relevant information, you must know who your potential customers have in mind and what information they want from you. This knowledge will guide you in creating content with an end in mind. Writing with intention enables users to improve the number of visitors to your website by using organic search.
This traffic could provide thousands of quality leads and make a huge difference in closing sales.
The question is: how can you develop your own successful SEO content strategy?
Concentrate first on the essential elements of content creation and keep SEO in the forefront of your thoughts as you work on the foundation you have created.
If you only hear crickets after posting your content, you must act and start thinking about strategies. The following seven techniques will assist you in creating compelling content that will enhance SEO potential.
#1. Identify Your Target Audience
SEO provides a positive user experience and the most accurate information possible.
It is first necessary to know your target audience to provide material that appeals to your intended audience. You can use the following queries to assist focus on the market you wish to target:
Who are your current customers?
The key traits of your customers currently give you hints as to the kind of people your potential customers could be. Look at qualitative and quantitative data, from age to gender to purchasing behaviour and website page interaction. This data can help you better understand the audience you're writing to.
Who are the people your competitors attract?
Find out who is connecting with your competitors. Examine social media accounts, comment on blogs, social media accounts, and customer reviews.
Of those who are content, what do they enjoy? For those who are unhappy, do you have the capacity to satisfy their demands?
There's a lot you can learn from businesses similar to yours.
What can you give?
Consider the products and services that you provide and the benefits they can offer your customers.
Who will benefit from these outcomes?
How do you get viewed?
Do you genuinely understand how your customers feel about you and your offerings?
It would help if you asked your audience the strengths of your approach, what you could do better, and what information they would like to learn from you.
Bring more visitors to your website with D'Marketing Agency.
Enhance your company's online presence by implementing content strategy for SEO  that yields the tangible outcomes you're looking for! Get a no-cost consultation today.
#2. Advertisement
Once you've gathered all the data, you may divide your target market into several groups and hire people to help you develop content tailored to each group's requirements.
Personas are ideal for customers and allow you to identify your target audience for maximum impact.
#3. Determine your Topic Area
Now that you've identified the audience, you're trying to reach out to what they would like to gain from your experience. It's time to start brainstorming topics with content strategy for SEO. Your purpose and experience should be at the heart of everything you write if your goal is to create content that readers will be interested in reading.
What information can you uniquely give to your public that distinguishes you as an authoritative voice?
This is the topic you should be discussing. It will help you conduct your research for interest from the audience, keyword matches, as well as SEO content creation. This is the thing that can help you create content that is converted. After you've determined your field of specialization (or the core content), you can use your audience's data to come up with a range of topics for your content. These are topics that fall in your field and will be topics that viewers would like to study.
#4. Select keywords that match your audience's needs + Topic Area
Did you notice that identifying keywords wasn't among the top two steps in an SEO?
This is because, to create a content strategy for SEO that resonates with users first, you need to know who you're aiming at and the information that will benefit them. Once you have that, you're prepared to begin researching the words and phrases that could guide your readers to topics that matter to them.
Here's how:
Step1: Start with broad search terms relevant to your primary content.
If, for instance, I offer baby clothing, I'd begin with the keyword that is at the beginning: "baby clothes."
Step2 : Reduce the scope of your project by taking into consideration these aspects:
The best sellers.
Keyword variations.
Features of the product.
The questions that people may ask Google to discover your brand as well as your products.
Step 3: Put it together.
You should be able to create a list of topics to research at this point. Make sure you include long-tail keywords that will allow you to explore the subject more deeply. More precise than other keywords, they allow you to create laser-focused content. Remember that this is just the start, regardless of the list you create. Do you need more suggestions? Put yourself in the position of your potential audience by conducting your own Google searches.
For instance, when I type in my broad search term "baby clothes," I find the following list:
Baby boy clothes (a best-selling item).
Baby clothes (a variant of the word).
Baby clothing embroidery (identifies an attribute of the product).
What is the most reliable site for baby clothing? (a frequently asked question from a buyer).
Step 4: Utilize Keyword research tools.
After you've created some rough lists of terms and phrases, you'll be able to run them through your preferred tool for research. This will allow you to identify the words that will give the best results. The keyword suggestions I get when I type "baby clothing" into KeywordTool.io
The more phrases and words you need to look up, the more specific your keywords will be. It'll take longer to input those words into your tool but trust me when I say that it's time well spent.
#5. Optimize Every Turn
Now that you have keywords that will increase your return on investment, you can include them in your writing to produce effective written content that will perform. When you write your content, make use of every opportunity to rank your content:
Include focus keywords in the H1 and H2 tags and in your meta description. Google will recognize these keywords more quickly and utilize them to rank your website.
You are focusing on your audience first and creating content that includes keywords that meet the needs of your audience and provide value.
You are establishing a brand's identity and gaining customer loyalty. People will be looking forward to your blog posts and look for opportunities to take advantage of your brand's expertise.
Improving your site's performance in every aspect increases the chance of a higher search ranking, more visibility, and more traffic.
#6. Keep information current.
The optimization doesn't stop when your article is published. As creating useful content is a critical element of an SEO content strategy, it's crucial to keep in mind to refresh your content regularly. Research findings and trends in society change constantly, and references to them could be outdated in a matter of minutes.
Articles you hyperlinked to in the past might no longer exist.
A website that publishes outdated content or broken links will lose the reader's trust. Keep up a positive rapport with your audience (and Google).
Let them know that your website is current, up-to-date, and a trusted source of the most relevant information you can get.
#7. Hosting Your Content
To have complete control over how your content is distributed, it is best to place your content on your platform. Think of posting to social media and other content websites as leasing real property from a landlord. At any moment and without notice, that landlord may decide to change their mind and remove you from the premises.
If sales and conversions are in the balance, it's an alarming notion.
This is precisely what happened to many guest bloggers (including myself) after Huffington Post pulled the plug for its guest blogger blogging program in the year 2018.
Without prior notice, any rankings these blogs had earned were suddenly gone.
Not only is it a waste of resources and time, but it's also a loss to potential business.
Publishing your publications' material on your private platform is the only way to guarantee their success. This doesn't mean you shouldn't consider joining with other websites to be an affiliate or even as a guest author for websites you can trust.
However, the primary goal of your content strategy is to publish your content on your website.
#8. Monitor your success.
Designing a successful content strategy is a significant expenditure of time and money.
It's worth it if the process is producing results. To judge whether your efforts are worthwhile to be successful, you need to evaluate the results in your strategy for content constantly.
Check if your strategy is functioning by keeping track:
Organic traffic: A reliable web analytics tool or spreadsheet could aid you in determining whether you're getting unpaid search results.
Indexed pages: Search engines can find your content valuable and relevant.
Conversions: the more efficient your approach, the more modifications you'll be able to earn.
SERPs: higher rankings show the effective use of content.
Monitoring metrics will help you measure your progress and provide you with opportunities to improve that can be just as (if not, more) beneficial.
Implementing an effective SEO strategy.
Sales and traffic to your business can be increased with a content strategy for SEO fundamentals. Your target market and area of specialization will be easier to identify when you construct your strategy with the aid of your study. Use this knowledge to write more effectively. By doing this, you'll be able to attract more people and get better results from Google.
That's winning.
Contact D'Marketing Agency
Look no further if you're seeking for a quick and efficient content plan to help with SEO. Our D'Marketing Agency staff can assist in creating a content plan for your website that will boost traffic and conversions. Our years of expertise designing an effective content strategy for SEO campaigns have taught us what it takes to rank your website on Google's first page.
Contact D'Marketing Agency today to learn more about our services and how we can help you achieve online success.