SEO Search Intent:  A Comprehensive Guide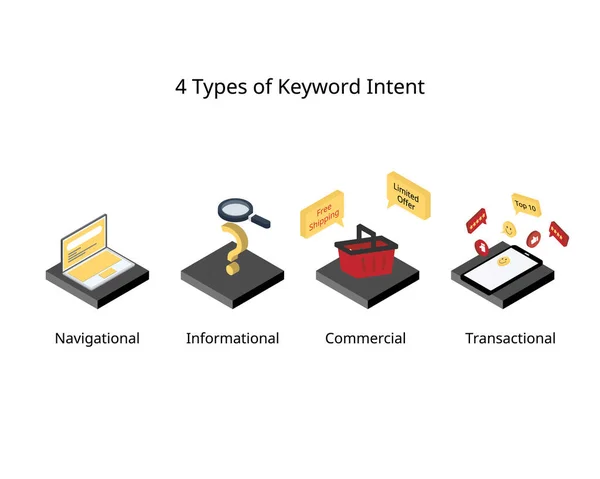 SEO Search intent is the goal of a searcher's effort. It's also known as user, audience, or even keyword purpose.
Through Google Hummingbird, Google RankBrain and other algorithm changes, Google automatically interprets search intention and provides users with results that are in line with. The search engine typically uses rich snippets of effects, such as those in the Answer Box and Knowledge Panel.
Since people's search queries reveal where they are within the conversion funnel, knowing the search intent will aid you in creating content targeted at potential customers.
What is the reason why Search Intent is Important for SEO?
How well you comprehend search intent affects your ability to rank and whether or not your visitors are happy with your website's content. Google even provides more information regarding the meaning of the guidelines for Quality Evaluators.
How annoyed would you be when you wanted to know more about the mechanics of motorcycles; however, all the results tried to convince you to buy an alternative model? You're trying to prevent that by incorporating users' intent into an SEO plan.
An understanding of search intent will aid you in the following ways:
Perform more effective keyword research by focusing on keywords that align with your company's and customers' needs.
Create content that responds to users' questions and organizes user-friendly and user-friendly pages to search engines.
Get higher rankings by creating web-based content that search engines perceive to be more relevant and valuable to their users.
The Four Types of Search Intent
While they can overlap, you can separate SEO search intentions into four categories:
Navigational purpose: Trying to find something (e.g., "Subaru website")
Informational purpose: Trying to learn more about something (e.g., "What's a best vehicle?")
Transactional intention: Trying to complete the specific task (e.g., "buy Subaru Forester")
Commercial purpose: Trying to learn more before making a purchasing decision (e.g. "Subaru vs. Nissan")
They can be roughly in line with your customer's journey.
The majority of users will make use of informational keywords while becoming acquainted with you. They could begin using commercial keywords as they get comfortable with your company or consider buying something. If they're ready to make a purchase, that's when transactions are the keywords that come into play.
Below, we'll discuss every type of SEO search intention in-depth, explaining what they mean and the best way to target these keywords by providing the right content.
Navigational Search Intent
Navigation intends that the user is looking for the right website, domain, or physical location. It's similar to Google's "visit" and "website" intentions for users and includes local search.
The main thing to know about the purpose behind navigation is that users already know what they want to discover. Therefore, if you're targeting keywords such as this, you shouldn't have to sell the users something completely new.
Google aims to bring it to users with the highest efficiency feasible. Google uses SERP features such as knowledge panels and local packs to do this. For instance, here's an example of an interactive search for the physical area.
In this case, the user searched for the address of the stadium where they play the New York Giants play. It's interesting to see how the snippet gives users the location they're searching for without quitting the page. The knowledge panel provides more information, such as an address directly to Google Maps and a phone number.
If you are searching for a phrase such as this, ensure that the local listing on your website is accurate and current. In addition, make sure that your location and contact information is easily accessible on your site.
Here's a different example in which the intent of navigation is somewhat unclear.
In this case, the user looked on Google for "IKEA Customer Service." However, it's unclear which information they sought to locate in that particular section of IKEA's website, a phone number IKEA website, a phone number, or any other details. In this instance, the search results showed the number as a fragment. The results from the search referred to the company's customer support page, and a section for People Also Asked provided more specific queries.
What's the reason it's essential for your Business
Keywords for navigation ensure that your current or future customers can find them when they need them most. Often, they're branded, and they also provide an insight into how people are interacting with or thinking about your company.
For instance, if most searches focus on a particular product page, it's likely to be popular with your customers. However, if you notice an unexpected increase in, for instance, searches related to customer service, It might be worth looking into the reason.
How can we optimize for Navigational Intent?
Make sure that the structure of your website is clear and straightforward to navigate to your desired navigational keywords. Every page must be clearly labelled with page titles, tags, headers, and descriptions that inform the user of the information available.
Check that every service or product you offer includes a distinct impact or landing page with the most pertinent details. Ensure each page is optimized using the correct product and brand names. Also, include other relevant terms (e.g. the type of product or the issue it may resolve).
Also, make sure your URLs are optimized to be easy to understand.
Informational Search Intent
Informational search intent is when the user is seeking to understand something. Most often, people phrase the searches in terms of questions and use words such as who, what, when, where, why, and when.
Questions can be exact ("how do you think the age of Madonna?") to extensive or complicated ("critical examination of The Illiad").
For more specific questions with specific solutions, Google will often use SERP features to respond to the question, meaning that users don't need to leave the page:
In the previous example, you can see how Google responds to that inquiry ("what season did the Eagles take home in the Superbowl") in the upper right-hand corner of its page. Google gives additional information through the information panel on the right and in the People Also Ask box.
The reason it's relevant to your Business.
Informational queries account for the majority of searches on Google. If you're looking for exposure, it's impossible to overlook these. However, they could still provide an excellent opportunity to increase the size of your company.
Giving your customers informative or educational content is a fantastic method of establishing confidence in your knowledge. Alongside increasing your exposure, you could use this content to attract potential leads that you could convert later.
To find keywords to provide information, focus carefully on the information that users are looking for. Your content should be written to convey the information as clearly as possible.
How to Optimize Your Website for Informational Intent.
For example, a "how-to" search typically looks for a well-organized procedure. Here's the SERP search feature for the phrase "how to begin writing a book":"
Note how the content featured is presented as an organized list with sequential steps. If you go to the page source, you'll see that each step is an individual subheader with meticulous details. Google employed these headers to create the rich excerpt.
If you were to create your own "How to" blog article, it'd be something like:
Do you know how To Make a Sandwich?
In this case, you'll compose an introduction. By using your H1, you've identified the topic you'll address.
In your article, you should elaborate on the steps listed in the H2 adjacent to it. Include information about the process and other pertinent information you'll need to think about.
No matter the subject or question, ensure that you're structuring your content correctly when writing content for informational purposes. Anywhere you can, you should include essential details, like instructions or responses to questions, within your page's titles, descriptions as well as headers. It is also possible to use other text elements such as charts, lists, and graphic elements to make your information more user-friendly.
Transactional Search Intent
SEO Search intent for transactions means that people want to perform a specific task, whether in person or via their mobile device. Contrary to what the name suggests, it's not limited to making purchases. Anyone conducting transactions may need to sign up for email or form submission, a shop visit, or a phone call.
Specific transactional queries are straightforward, making the task the user tries to achieve clarity. For instance, a customer located in Philadelphia, PA, who is looking to catch the latest movie could search for "movies close to Philadelphia, Pennsylvania:"
This is where Google provides a list of local theatres and websites on which users can get more details or purchase tickets. When they select a film they are attracted to; they can look up show times and buy tickets from their preferred website:
In other instances, it's not clear whether the intent of a user was commercial, transactional, or informational. This happens most often when the search query refers to a particular product. If that is the case, results from the search will have various features of the SERP to aid in researching the product or making a purchase.
In this instance, the knowledge panel includes transactional content (comparing prices across different stores) and commercial (basic information about the product, including user ratings and reviews and queries about effects).
The Reasons Why It's Important for Your Business
Transactional keywords are the ones that generate money for you. These are the words that your customers will use in the future when they're ready to convert; however, that means for you.
Make the most of your opportunities by targeting keywords that are relevant to transactions with an optimized landing page for products and an easy purchase procedure.
How can you identify the keywords that are relevant to transactions?
Targeting transactional keywords refers to:
Converting is a big deal for you (Do you would like them to sign up? Purchase something?)
Offering the most current information in a user-friendly format, you could
The conversion process should be as easy as possible
This process must be effortless, regardless of whether it begins on your website or Google. For this, you must ensure that the relevant pages are easy to locate and have the necessary information to take the desired action.
The first step is to ensure that you're sending users to a page designed specifically for this purpose, whether a website or an ad. The page must include:
Page Title Description, Headers, and Titles that contain your keywords and define the purpose of your site.
A clear CTA that's easy for customers to read and recognize
The Clear Design helps users locate the information they require quickly and finish their conversion speedily and easily
Conversion optimized text that eases the decision-making process by engagingly providing crucial information.
Also, please make use of structured data to assist Google in understanding what's on the page so it can present it to users when they're ready to convert. Learn more about structuring information in the tutorial on the technical aspects of SEO.
Commercial Search Intent
Commercial search intent is a mix of transactional and informational. This means that those are the words that your customers use when researching before making a purchase.
Let's say for instance, that you've decided to purchase an upgrade for your phone. You're not certain if you are looking to buy the latest iPhone or one of the Samsung Galaxy, so you go to "iPhone 13 and Samsung S21:"
If you are searching for something similar, the SERP feature will compare each product so that customers can make an informed choice. If you go further and look up more information:
Of course, product comparisons aren't the only kind in commercial searches. Customers may also search for:
Reviews by users or reliable sources
Technical specifications or other specifics
The recommendations are brand-agnostic (e.g., "best phones 2022")
Trials or demonstrations of products for free
Other websites that allow them to find out more about a particular product or service.
The Reasons Why It's Important for Your Business
Commercial keywords are about showing the world what you can offer them and providing them with the data they require to make a purchase. The more quickly your customers can access and utilize this information more likely they are to take action.
By using these words, you're staying in touch with your customer throughout an extremely crucial aspect of their buying journey.
How to Optimize Your Website for Commercial Intent
Similar to other informational keywords, you should try to target keywords that are commercial, and you must understand what users are looking for. And then, you must structure your site to make it easy for users to find the information as swiftly as they can.
For instance, Here's how Apple's website evaluates its iPhone 13 with the iPhone 13 Pro:
Since the goal of the page is to provide a comparison between two products of the same type, It's designed as a table with comparable information for both sides, and numerous visuals. So, the user can easily identify the differences and specific details that matter to them the most.
Here's a different example of a well-structured commercial video:
The article by Android Police, "The Best Android Phones in 2022" begins with a brief glance at their conclusions. The three best photos are displayed in a table, so users can compare details easily.
The article continues by dedicating a head to each phone
It's worth noting that the most important information is displayed first and foremost. The phone's name, rating, and review links are all listed on top, with the technical specifications and additional information. Users are also able to expand their search on the page to find out more about how the editors reached their conclusions.
In both cases (Apple or Android Police), the commercial content was well-structured, efficiently, well-organized and easily read. Users were able to learn quickly and easily make a purchase choice.
Apply the same approach to commercial material on your website. Start by asking yourself, what exactly is my target audience looking to discover through this website? Create a well-structured and organized website with this in your mind.
Next, please improve it by adding informative page titles, headers, meta descriptions, and URLs.
Also, make it as simple as you can for them to purchase by providing links to additional details and lead generation forms as well as purchase sites.
How to determine search intent by analyzing Keywords
The determination of SEO search intent is a vital element in any strategy for content. Why? Because, as mentioned above, the SEO search intent is often in line with where the user is in the funnel of marketing.
Here's the way it typically operates:
Knowledge: Informational keywords like "how to conduct Keyword research."
Consideration: Commercial keywords like "best keyword research products."
Conversion Navigational, transactional and navigational words (often associated with) such as "Semrush Subscriptions."
In many instances, you can tell the intent of a keyword by looking at the word itself as well as its search results.
For instance, an informative keyword can often be used to answer questions, words or phrases to show how the person is studying. The result may include a brief answer to the user's query. In the same way, a commercial transactional keyword may refer to a specific type of product. Such queries could result in an array of product listings and user reviews or even links to retailers.
However, you don't need to come up with the answer on your own. It is possible to make use of Semrush to identify SEO search intent in your research on keywords. With Keyword Magic, the Keyword Magic tool, you can sort your results by SEO search intent and narrow your search to only those which are compatible with your objectives:
If you're searching for one keyword, you may also look up this information in Keyword Overview:
It is possible to create more specific content strategies for your readers to engage better and increase your ranking by utilizing these data.
The benefits of SEO are in the intent of The Targeting.
Search intent is a huge component of how semantic SEO provides relevant user results. Improved intent optimization can bring more targeted and qualified visitors to your site.
This could lead to higher conversion rates for your landing pages and many other advantages to all types of content, such as:
Lower rate of bounces: Users get the information they desire and so remain on your site.
Page views that are higher: Meeting a user's intention increases their likelihood to take a look at other pages on your site.
Additional featured snippets of content: Selecting your content to be featured in Google's rich snippets could greatly benefit you. This allows your website to be ranked at a position that is 0 above the first result in a search.
Greater reach to the public: Google is smart enough to recognize different queries that share the same subject and intention. It will therefore show your page that is optimized for many more queries.
These are the benefits that make intent optimization such a powerful tool. When you are doing it right, you'll get bigger audiences with more qualified traffic and more engaging data to your website's content.
Contact D'Marketing Agency
If you're looking for a guide to understanding and using SEO search intent, look no further! Our team at D'Marketing Agency has created a thorough guide that will assist you in comprehending how users use keywords, what they are looking for when they search, and how you can take advantage of that knowledge to raise the rankings of your website and attract more visitors (and customers).
Contact with us right now to find out more about our SEO offerings or to begin utilizing this insightful knowledge for your company.
Conclusion
In the end, a well-designed website can provide users with the knowledge they require at the time they require it the most. Informational content allows users to become knowledgeable about topics that are important to them. Commercial content assists them in making better-informed purchasing decisions. Focusing on the right keywords for navigation and transactional it can assist them to locate you quickly when they're ready to make a purchase.